PCR Reagents
The latest reagent technology ensures ultra-fast performance of the PCR tests with our platform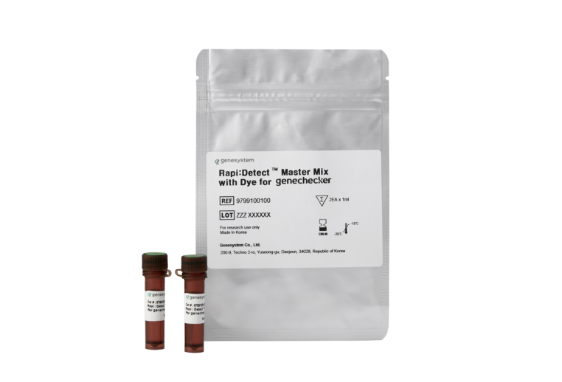 FEATURE
Optimized for ultra-fast reaction with GENECHECKER® platforms.
Formulations for high sensitivity, efficiency and minimized PCR inhibition were applied.
Uses novel antibody-mediated hot-start DNA polymerases.
Options suitable for DNA amplification, real-time analysis and one-step reverse transcriptase PCR applications.
Rapi:Amp Master Mixes
For ultra-fast DNA amplification with UF-100 platform
Rapi:Detect Master Mixes
Contains DNA specific-binding fluorescent dye for detection with UF-150, UF-300 and UF-340 platforms
Rapi:Spec Master Mixes
Intended for probe based PCR in diagnostic applications.
ORDERING INFORMATION
| Cat. No. | Product | Pack Size |
| --- | --- | --- |
| 9799100300 | Rapi:Amp™ Master Mix | 2mL (400 reactions) |
| 9799100400 | Rapi:Amp™ Master Mix with Gel Loading Dye | 2mL (400 reactions) |
| 9799100600 | Rapi:Amp™ Master Mix with RTase | 2mL (400 reactions) |
| 9799100100 | Rapi:Detect™ Master Mix with Dye | 2mL (400 reactions) |
| 9799100200 | Rapi:Detect™ Master Mix with Dye and RTase | 2mL (400 reactions) |
| 9799100500 | Rapi:Spec™ Probe Master Mix | 2mL (400 reactions) |
| 9799100700 | Rapi:Spec™ Probe Master Mix with RTase | 2mL (400 reactions) |
| 9799130100 | Positive Control Kit (Lambda Phage) | 100 reactions |