UF-100
Thermal Cycler
DNA amplification in 20 minutes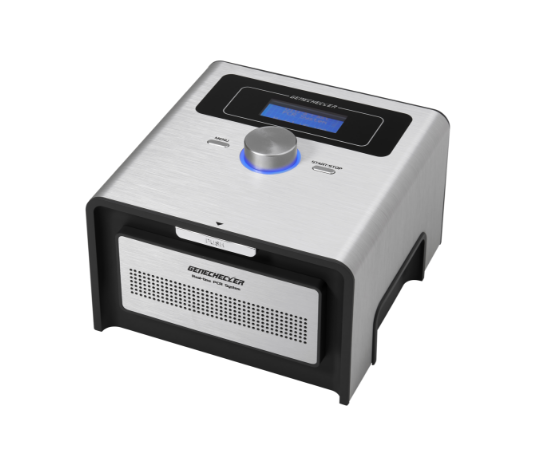 FEATURE
State-of-the-art hardware technology
Patented chip based design and fast ramping rate.
"40 cycles in 20 minutes"
Intuitive Equipment
Operation
Equipped with LED-mounted jog
dials and LCD displays for easy operation.
INTERFACE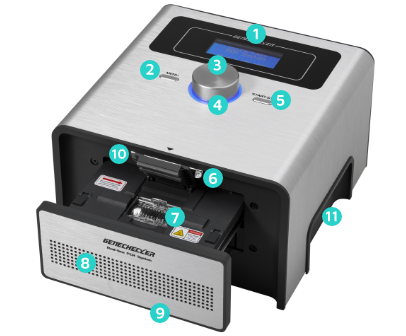 01. LCD Display

4-lined text LCD offers clear identification while protocol setting and status monitoring.

02. MENU button

Main menu secreen is displayed when this button is pressed from initial screen. Displayed screen moves to previous step when this button is pressed.

03. Jog-Dial

Rotating jog-dial clockwise direction moves cursor on the display down(right) of increases set values. Rotating jog-dial in counter-clockwise direction moves cursor on the display up(left) and decreases set values. Pressing jog-dial selects the menu where cursor is located.

04. LED Indicator

LED indicator is illuminated in two different colors-blue and red. Blue LED indicates that the instrument is idle and ready for use, i.e. PCR cycle is being performed. LED is turned off when prompted PCR cycles are finished.

05. RUN/STOP Button

Selected PCR protocel is executed when this button is pressed. Currently performed PCR cycle is immediately stopped when this button is pressed while the instrument is running.

06. Chip Presser

Automatically presses upper surface of chip when the drawer is closed.

07. Heating Plate

This is the point where the chip is loaded for PCR cycles. Flat surface is heated and cooled during thermal cycling.

08. Air Ventilation Holes

Holes which air flows into the instrument through.

09. Chip Drawer

This is the module transporting the chip into the instrument. Mechanically stable structure and robust design offer soft movement and maintenance-free features of this frequently used part.

10. PUSH Bar

Chip drawer is gently opened and upper sealing cap on the heating plate is automatically lifted when this bar is softly pressed.

11. Groove for Easy Handling

This part is to enhance portability of instrument.
ORDERING INFORMATION
| Cat. No. | Product | Pack Size |
| --- | --- | --- |
| 1099100100 | GENECHECKER® UF-100 Thermal Cycler | 1 SET |
| 1699100500 | Optional Power Cable for Car Cigarette Power Socket | 1 SET |